NYM Monthly Metrics – October 2019
Friends,
NYM had an active month in October with a total of $277,468,000 in activity! This month we placed 9 deals under contract, closed $69,696,000 and listed 21 properties totaling $140,940,000.

Some quick closing updates:
Last month we closed on a fully free market building located at 36 West 21st Street for $4,650,000. The property closed at a 4.7% cap rate for $905 p/sf.  We also closed on 197 Bleecker Street in Greenwich Village for $5,000,000 – This asset consists of 5 units and is 100% free market. On the Upper West Side we closed 255 West 91st Street for $3,200,000.
Some quick listing updates:
We recently listed 29 Second Avenue asking $8,500,000 – This asset is located in the East Village and features renovations unparalleled for the area. We also brought to market 2 West 16th Street – a 100% free market asset with immediate upsides. This asset contains 13 units and 12,750 square feet.
In Brooklyn we brought to market 415 Broadway for $6,195,000, asking a 5.1% cap rate and is currently benefiting from a J-51 Tax Abatement.
In Queens we listed 11-42 44th Drive for $4,500,000, this asset is located in prime Long Island City and allows an investor to gain an immediate footprint in a rapidly growing area.  For other on-market opportunities you might be interested in, head over to the NYM website.
Last month, we shared the story of the sale of 186 Franklin Street in Tribeca. We discussed how the NYM team was able to find the right buyer who was willing to pay top dollar and was also able to assist the seller in completing a 1031 tax-deferred exchange. We also sat down with Brad Hargreaves, the CEO & Founder of Common, on Behind the Bricks. We talked about co-living, and how it is at the intersection of technology, evolving cultural norms, economic pressures, and possibly the beginning of a new category in the business. Take a listen to this episode by clicking here.
How did the third quarter of 2019 shape up? Take a look at our Q3 2019 NYC Multifamily Sales Report which highlights market data and insights click here to view it.
For information about other opportunities in the market or the potential value of your asset, call me at the number below.
Peter Von Der Ahe
212.430.5114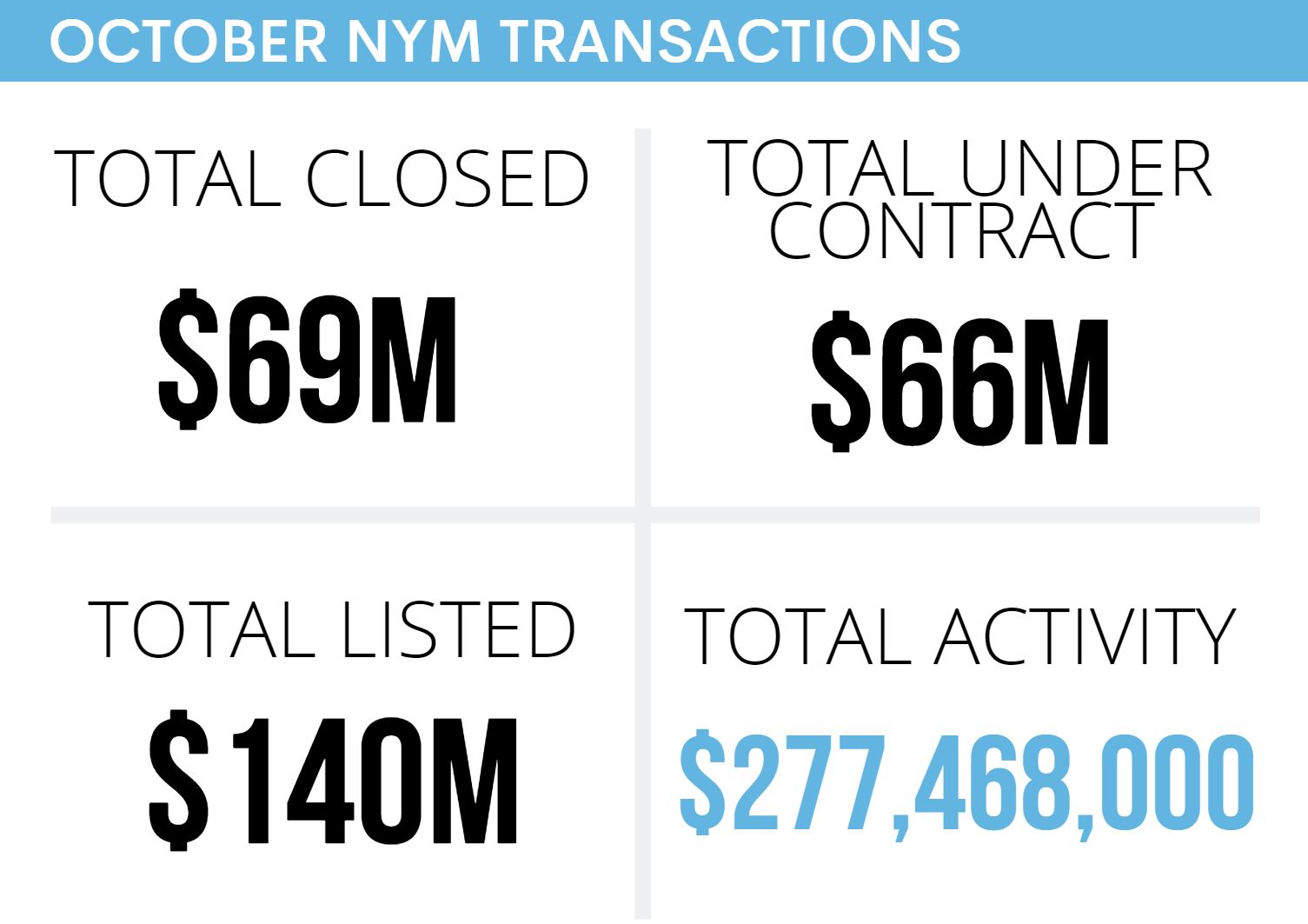 We sat down with Brad Hargreaves, the CEO and founder of Common. Common is the premier operator in the co-living space that has opened 27 co-living properties in 6 cities. Brad is a serial entrepreneur who, notably before Common, was a co-founder of "General Assembly," a worldwide education platform that addressed the skills gap needed for success in the 21st century. Brad has great advice for entrepreneurs, developing creativity, and his unique way of thinking will provide insights into the future of our industry. Listen to the episode by clicking here.

Many buildings in Manhattan's Tribeca neighborhood have been converted to condos in recent years, which has decreased the supply of rental units on this popular part of the island. But that's not the case for 186 Franklin St. This 50-foot wide elevator building houses six residential rental units and one retail unit, and its immaculate condition makes it a rarity in the coveted neighborhood. In order to successfully sell this building, the owner of 186 Franklin St. needed to work with a real estate team that had connections with buyers who could pay the high price for a property like this one. That's why they went with New York Multifamily. Click here to read the blog.

Peter moderated a panel at the Vision 20/20 Summit where they discussed the future of New York City real estate and how the legislation will impact the city's housing markets.