FAMILY SECRETS
Enlivening, illuminating, and compelling, Peter Von Der Ahe provides an exclusive glimpse into the world of multifamily real estate in New York City.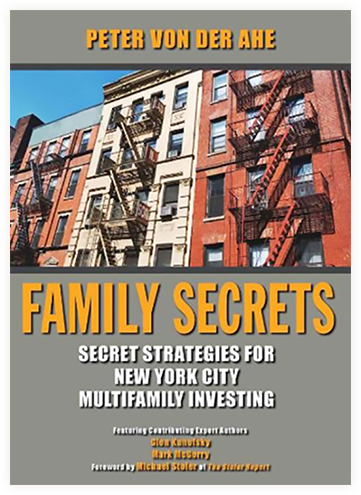 Informative for beginners and amusing for seasoned experts, Family Secrets attempts to take you beyond the simple mathematics of investing in multifamily real estate and show you the real New York City world. This book contains knowledge and personal stories that otherwise would take years of owning, brokering, or managing residential buildings to obtain. It will make you laugh at the characters that actually hold the power (it is not who you would guess) and surprise you with the techniques many use to make their investments work.
Reading on, you will be emotionally moved as the stereotype of the fat cat building owner will be admonished, and you realize entire generations of blood, sweat, and tears are on the line in these investments. Hopefully it will save you time, demonstrate how to make money, and prevent you from losing a lot of sleep or equity.
$18.95 USD